ORDER GUIDE
This guide covers: The Fling - Artwork, Specifications, Material & Print Colours, Approval & Terms.
Please complete the Order Form. This will open in a new browser window if you click here.
We recommend taking a moment to look through this short guide which provides full details of how to complete the Order Form, making the process as quick & easy for you as possible.
Please return your completed Order Form by email to: [email protected]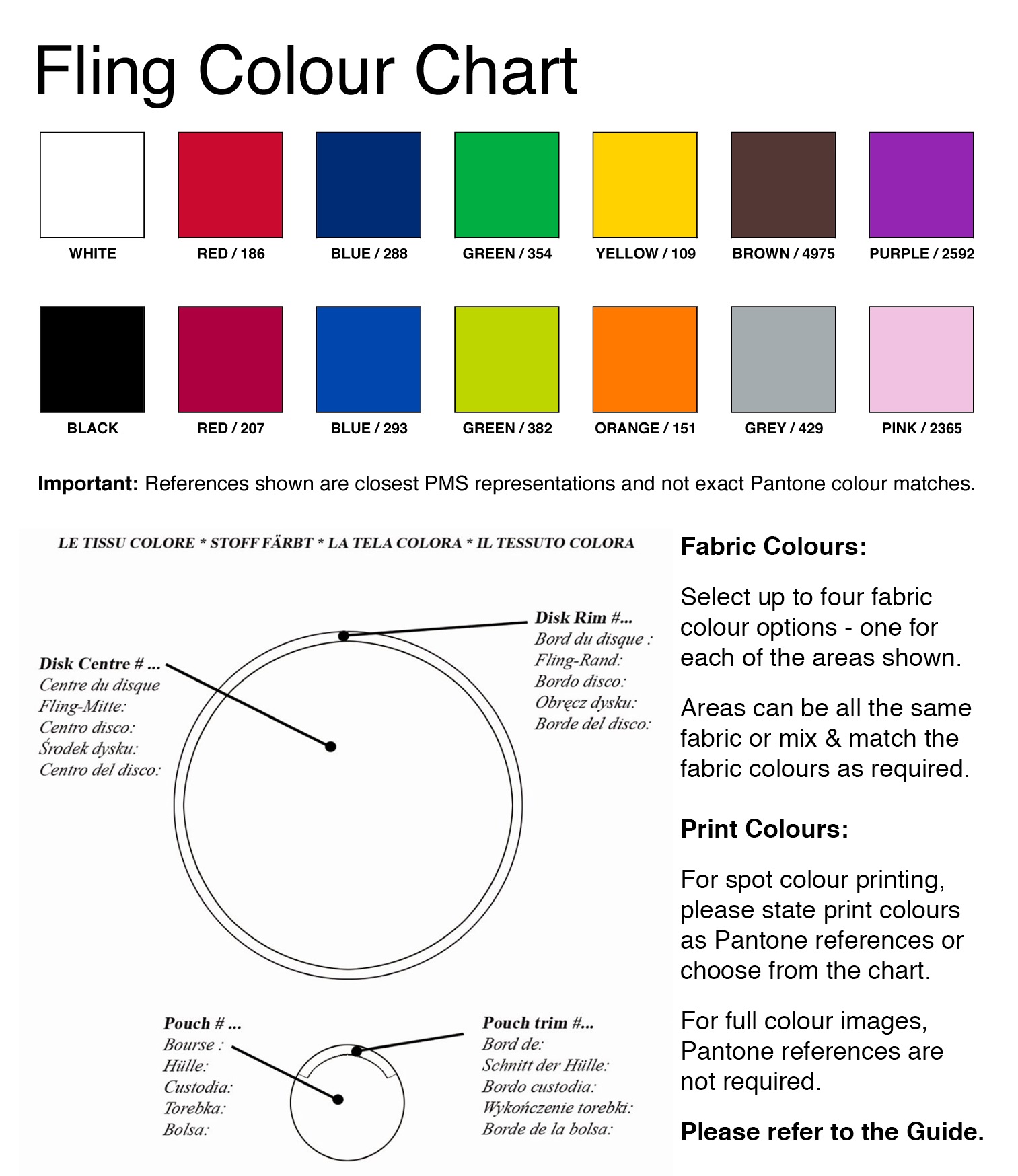 SECTIONS:
Artwork Requirements & Submission.
Choosing Material Colours.

Specifying Print Colours.

Delivery Times.

The Approval Process.

Payment Options.

Check List.
Please start by adding your own order number or reference, (if applicable), and your Billing & Shipping information to your Order Form.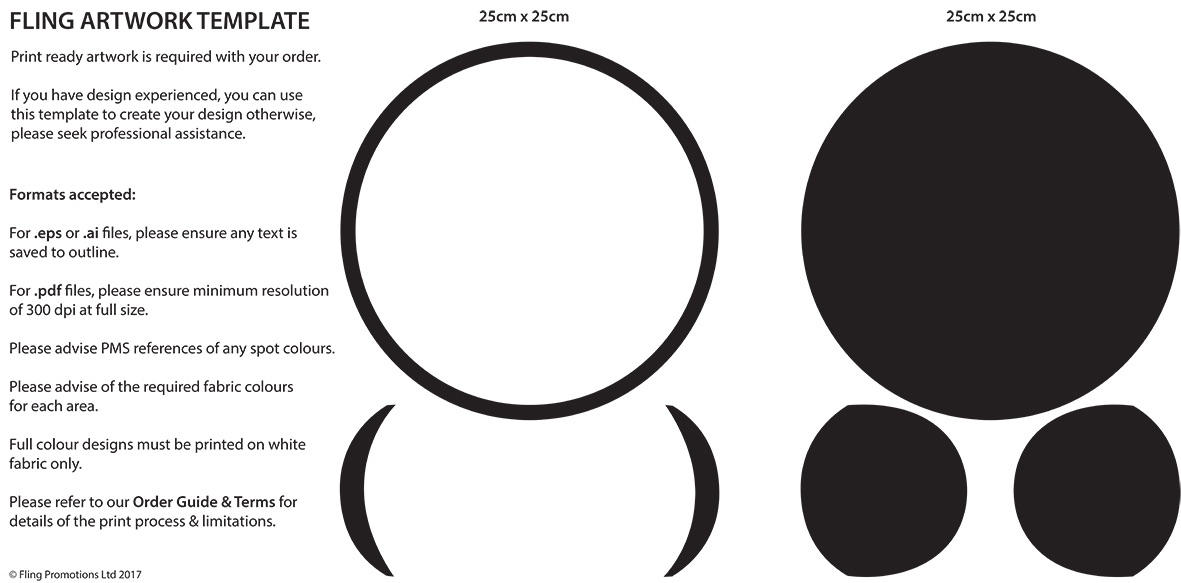 SECTION 1: Artwork Requirements for Fling & pouch.
Please supply print ready artwork with your order. Layout guides & templates are available - please click here.
Disk print area: 23cm (9 1⁄4") one side only.
Pouch print area: 8cm (3") one side only.
Rim & pouch trim: The rim & trim cannot be printed.
Artwork file formats:
For 1 colour designs: .ai file, .eps file or high quality .pdf file.
For 2 colour designs: .ai file, .eps file or high quality .pdf file.
For full colour designs: .ai file, .eps file or high quality .pdf file.
The minimum resolution required for .pdf files is 300 dpi at full size.
Please provide Pantone references for spot colours – or refer to our Colour Chart below.
For .eps and .ai files, all text must be saved set to outline.
Full colour images must be printed on white fabric to help avoid unecessary colour distortion.
The total disk diameter is approximately 25cm & can be printed full bleed, with the design disappearing under the rim if required. Please allow adequate bleed, ensuring the main message remains within a 23cm diameter.
The pouch cannot be printed full bleed.
Please note: All full colour jobs are run at our printer's discretion, within the limitations of the printing process / materials, to achieve the best possible overall effect. Due to the nature of the process, some slight colour variation is sometimes unavoidable. Where tones are highly important, please supply a paper proof to assist colour matching and allow seven days extra lead-time.
Submission:
Artwork less than 4Mb may be submitted by email.
Larger files can be sent via the file transfer website www.WeTransfer.com to: [email protected]
Section 2: Choosing Material Colours.
The PMS references shown are the closest possible & intended as a guide only. They are not an exact PMS matches.
Please remember that on screen representations may vary slightly from the actual fabric colours due to monitor callibration & other factors.
Please enter your fabric choice onto the Order Form.
SECTION 3: Specifying Print Colours.
You may be familiar with Pantone references, also called PMS references, (Pantone Measuring System), for quoting colours. If you know the PMS references that you would like printed, then please indicate them on the Order Form.
Alternatively, you can stipulate print colours from our 'Fling Colour Chart' shown above.
If your print design is a full colour, (a photographic type image), then it is not necessary to state Pantone references. On the Order Form, please enter 'Full Colour' instead of a Pantone reference.
SECTION 4: Delivery Times.
Delivery times are typically within 3 weeks of receiving your artwork, approval & payment. Delivery dates are not guaranteed however as a part of the process, (the shipping & customs for example), is beyond our control.
If you are ordering for a forthcoming event, please do let us know the date and we will endeavour to meet your target where possible.
Delivery Time Guide. (For all main courier destinations)
Below 50,000 units. 3 - 4 weeks approx
Above 50,000 units. 4 - 6 weeks
Above 100,000 units. On request
Please note that the above times are a guide and may vary due to production levels, seasonal demand etc.
The cost of delivery is included within your quotation.
SECTION 5: The Approval Process.
Our approval procedure works as follows:
Make your choice of fabric colours - as covered in Section 2.

State PMS references for the printing - as covered in Section 3.

A generic sample can be provided on request, to demonstrate the standard of quality to expect.

Check & approve the virtual visual provided, to ensure that the layout and content is correct.

Please double check the Order Form, as the factory works from this instruction to produce your order.

Combining these steps covers all aspects of the approval process & avoids the necessity of providing pre-production samples, therefore substantially reducing your delivery time.
Important: Goods will be made in accordance with the Order Form & visual that you approve. It is therefore vital that all aspects are carefully checked as once approved, as full responsibility passes to the customer thereafter.
Actual pre-production samples are available if required. However this process adds around two weeks to the delivery time and costs £150 / $250 / € 200 per design, for three samples. Therefore, approval via the virtual proof method explained is normally preferred for being beneficial to delivery times & budgets.
SECTION 6: Payment.
Full payment is required at time of ordering by via bank transfer.Bank Transfers should be sent to the follow account please;
Account Name:
Fling Promotions Ltd
Bank:
NatWest
Account Number:
81421354
Sort code:
60 10 18
IBAN:
GB07NWBK60101881421354
Swift Code:
NWBKGB2L
Please quote our invoice number as the reference on transfers & kindly email us with your bank receipt.
Overseas orders: All payments are required in £GBP please.
SECTION 7: Check List.
To put your order into production please supply;
Your fully completed Order Form & written approval of the visual provided.

Your artwork.

Your payment.
What happens next...
• After returning your Order Form and artwork, we will provide a computer visual for your urgent approval.
• Once your approval and payment has been received, production can commence.
• A courier tracking number will be provided once the order has been dispatched.
• Your order will be delivered direct to your door, duty paid within a few working days.
Thank you for your order.
flingprom.com